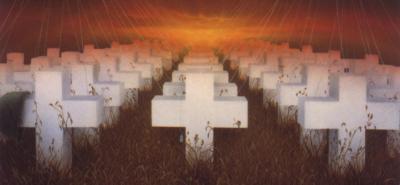 Eine nette Idee hatte man da im Headquarter von
Get Physical
. "Hast Du Dich jemals gefragt, welches Lied auf Deiner eigenen Beerdigung gespielt werden soll? Oder: Welches Lied Du bei Deinen letzten Atemzügen hören willst?" Genau aus dieser Auswahl musikalischer Persönlichkeiten des öffentlichen Interesses derer mit überdruchschnittlichen (Behauptung meinerseits) Musikgeschmack, hat man eine Compilation gemacht. "13 mutige Künstler, die ihre ganz persönliche Antwort auf diese letzte Frage geben. 13 "Final Songs", die einem nahe gehen. Oder einen erheben. Oder einen aufheitern. Oder einem die Schönheit des Lebens vor Augen führen. "
Erik Satie - 1. Gymnopédie – selected by DJ T
Rob Gallagher – Little One – selected by Gilles Peterson
Photek – Modus Operandi – selected by Storm
The Stranglers – Golden Brown – selected by DJ Hell
Cerrone – Supernature – selected by Kevin Saunderson
Radiohead – Sit Down Stand Up – selected by Laurent Garnier
Chloé – Paradise – selected by Chloé
The Beach Boys – 'Til I Die – selected by David Holmes
Peggy Lee – Is That All There Is? – selected by Ewan Pearson
Inti Illimani - Caramba,Yo Soy Dueno del Baron -selected by Ricardo Villalobos
Link – Amenity – selected by Richie Hawtin
Pharoah Sanders – Astral Travelling – selected by Francois K
Brian Eno – An Ending (Ascent) – selected by Coldcutt
Ich hätte nach dem momentanen Stand der Dinge ja ganz gerne... noch etwas Zeit mir das zu überlegen.
Passend dazu mag der geneigte Leser sich ja auch diesen Blogeintrag widmen "
The Beat Goes On
": . Mittlerweile bin ich dank gewonnenem
Knicken
-Gewinnspiel stolzer Besitzer dieses Jahresplaners. Ein großartiges Projekt und Buch.
uvmann - Do, 11. Dez, 16:25